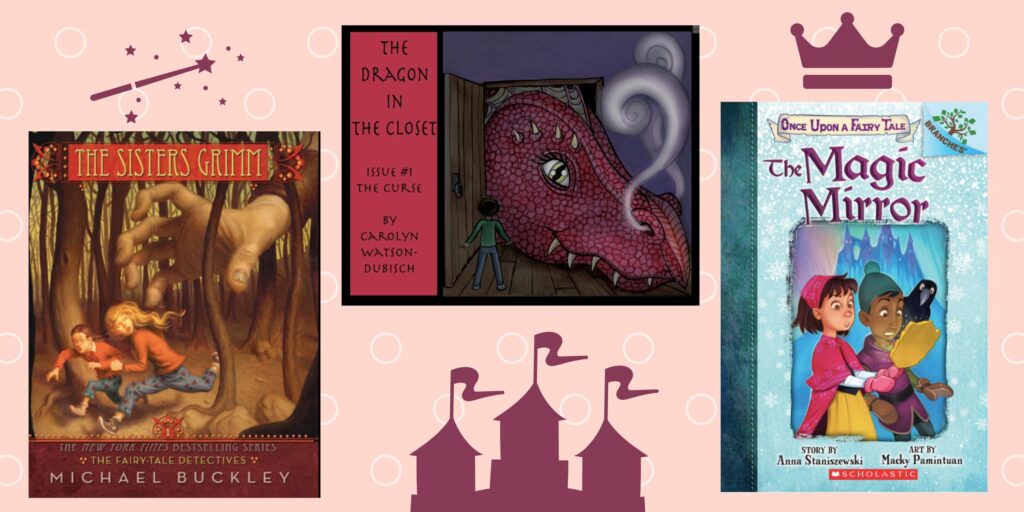 Fairytales and folklore have been around for as long as humans had the power of speech. Some classic stories have been retold for thousands of years. Jack and the Beanstalk for example is said to be 5,000 years old in its earliest iteration. Books come out every year of retold fairy tales, most for children and many for adults.
A popular literary approach these days is to use the classic fairy tales, like Little Red Riding Hood and Cinderella and not just update and retell the story, but to create a whole world of these characters and write stories that fit into that world. Famously and very entertainingly done in the movie series "Shrek", this approach is just masterfully handled in three series for YA and early readers.
The Dragon in The Closet by Carolyn Watson Dubisch
This is a fairly new series for young readers. It's lavishly illustrated and would be technically considered a series of comic books. Orin Bean, grandson of Jack (from Jack in the Beanstalk) lives a cursed life. Tormented by monsters from a spell cast against his family by the giants. This story has a witch, a fairy Godmother, a candied gingerbread house in the woods and of course a dragon. Currently there are two books in this series with a third called "The Dragon in the Closet, Dragon's Journey" coming out in June of 2022. What's great about this one is that the comic is also a webcomic and the series can be read through new weekly installments on this website. I for one am really looking forward to the third book!
Once Upon a Fairytale by Anna Staniszweki
This series has four books out currently and is also for beginning readers. Thoroughly illustrated with black and white line art these books are a wonderful transition from picture books for kids. Kara and Zed and two children living in a fairytale kingdom, Kara's family runs the shoe shop and Zed is a royal messenger. Together they solve mysteries to help the kingdom. Each book is very engaging and stands alone. The most recent book is called "The Snoring Princess: A Branches Book" and was released in 2020, hopefully more are coming soon.
The Sisters Grimm by Michael Buckley
This series of nine books is the most famous of the three and has been around a long time, but it's too well done to ignore. This series is for children who have started to read proficiently. It's also illustrated and very entertaining for young readers. Two sisters, Sabrina and Daphne Grimm find themselves orphaned when their parents go missing.  After a series of foster homes they are sent to a long lost grandmother's house in a mysterious town called Ferryport Landing in Upstate New York. In this town there are all manner of magical creatures and the people from famous fairytales are alive and well. They call them "Everafters". Like the last series the girls solve all manner of mysteries in the town. This is a completed series so no new books will be coming out, but it's well worth picking up for your young reader.

There are more series like these out there but these three all have a very unique and truly entertaining approach. If you have an early reader in your home I highly recommend sparking their imaginations with these books and starting them on a reading adventure that will stay with them as they grow.