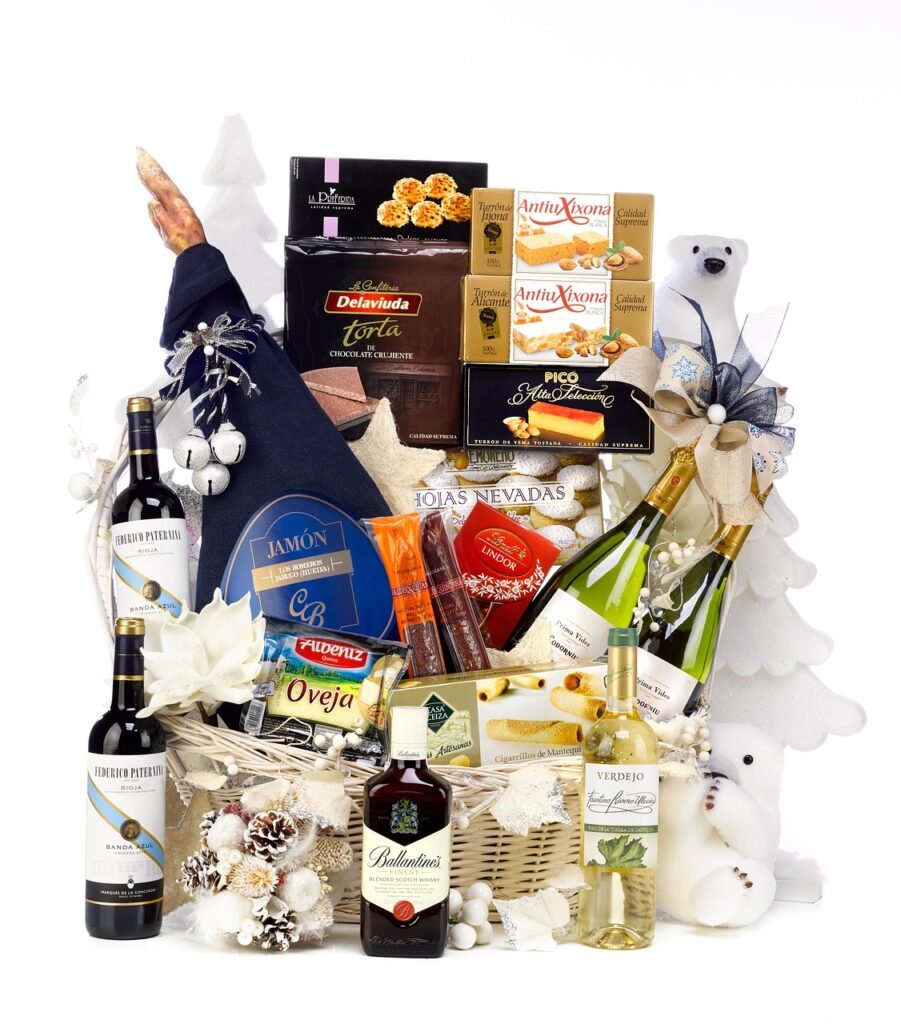 The most generally observed holiday in the country is Christmas. With holiday decorations and essentials everywhere, spirits are raised and laughter is simple to come by. Introduce gift baskets to your loved ones this Christmas; filled with wondrous delights, they are sure to make everyone smile.
Nostalgic Gift Baskets
For the majority of us, certain tastes and odors may instantaneously transport us back to our formative years. Oranges, wine, gingerbread, and cinnamon are a few common scents associated with nostalgia. Try a traditional gift basket filled with frosted cookies, cinnamon-scented candles, and a bottle of mulled wine if you want to play up the holiday motif. You may also think about using a wicker basket for a more original gift idea. It is simple to add ornaments, such as pine cones or even evergreen branches, due to the woven texture. You might also use ribbons, bow ties, or garlands to add additional coloring to the basket, such as red and green. This gift basket is adaptable, joyful, and evokes pleasant memories from the past.
"Thank You" Gift Baskets
Saying "thank you" in a gift basket this Christmas is another option. During the Christmas season, you will likely host or attend a lot of parties. You may put together a gift basket with things you know the recipient will like to show your appreciation. Some of the traditional gifts include wines, chocolates, fruits, and candles. You will undoubtedly receive a small thank-you card in return for your generosity. The gift basket, though, will have sent an important message: you are grateful for your friend's willingness to host, and you had a lovely time. This is such a simple, sweet, and carefree way of conveying your appreciation.
Family Gift Baskets
Finding a present that would win over everyone in the family can be difficult when it comes to gift suggestions. The ideal answer is a gift basket. You can include treats you know specific family members will enjoy combined with sentimental pieces like jokes and photos. Your family will undoubtedly be touched by the gesture, especially considering that they have seen you at both your best and worst. Even though life can be hectic at times, you can be sure that your family will always love and cherish you. The effort you put into making the gift basket is reflective of this deep, personal bond. Because your family has and always will be there for you, you should grant them a gift basket that speaks to this truth; everyone appreciates a token of love and affection.
Goodie Baskets
One of the most popular aspects of Christmas are the treats! When it comes to this special holiday, it's all about gingerbread, cinnamon, nutmeg, and icing. For a fun gift idea, you could make a gift basket entirely themed with gingerbread ― gingerbread men, gingerbread women, and gingerbread houses. With icing as a garnishment and fun candies brightening up the display, your loved ones will no doubt be in awe of the creativity. The best part is, you don't need any special tools or skills to make this basket. When it comes to gingerbread, your imagination is the limit. You could also include other fun Christmas desserts in the basket, like sugar cookies, candy canes, brownies, and even pie.
Luxury Gift Baskets
The goodies are one of the most well-liked components of Christmas! The main ingredients for this special celebration are gingerbread, cinnamon, nutmeg, and icing. You might create a gift basket that is totally themed with gingerbread, including gingerbread men, ladies, and houses. Your loved ones will undoubtedly be amazed by your imagination as fascinating candies and icing decorate the display. The nice part is that you can create this basket without any specialised equipment or knowledge. The only restriction on gingerbread is your imagination. Other festive Christmas delicacies like sugar cookies, candy canes, brownies, and even pie could be included in the basket. Everyone loves a Christmas treat!