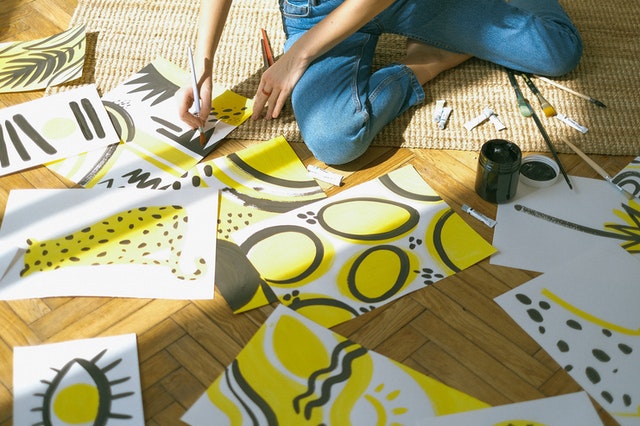 Who doesn't want to make some extra income? The extra money that you earn can be used to accomplish a lot. It comes in handy to pay your monthly expenses, save some money for your future, etc. With the digital era, multiple money-making opportunities are open to you. Don't be surprised to know that it is possible to earn a full-time living with online endeavors, despite having limited experience or knowledge.
In this article, we will look into one such element, working with Adobe Illustrator. Just a fundamental level of understanding can build up your career. Photoshop is used to create images by using pixels. The illustrator makes use of mathematical computations like points, lines, curves, shapes, etc. This article will discuss the ways to earn money as an illustrator.
1) Sell Icons: The quantity and the quality of the icons matter. Create a large number of icons with multiple categories that can be used to buy icons that are used in web and mobile applications. The icons convey ideas and actions to the user. When a particular design or style is liked by the buyer, they will likely buy more icons.
2) Selling Graphic assets at stock art marketplaces: Designers make use of graphic assets to complete the designing projects. If they have a heavy workload, then it becomes a challenge for these designers to meet the deadlines. The vendor assets help the designers to speed up their design work and earn extra income . Some of the work designs that the designers are willing to buy include doodles for their web pages, mobile apps or presentations, prints, etc. Borders for the greeting cards, background patterns, floral designs, etc. Social media apps or multipurpose banner templates for websites are also in demand. You can also sign up as an illustrator with leading digital illustration agencies such as Advocate-art.com to start selling your Artwork.
3) Content Creator: A few years ago, to become a successful YouTuber was easy. But now as the competition intensifies, there are plenty of high-quality content videos that are being uploaded. People not only use YouTube for entertainment purposes but also for learning. Hence, creating video tutorials by using illustrators can attract many viewers. If you have a good subscriber base, money can flow in.
4) Print on Demand: With the print-on-demand ( POD) e-commerce sites, there is no necessity for stocking up the inventories. The designer is not required to keep the inventory or to deal with packaging or shipping as they are handled by a POD partner. The POD includes Redbubble, Teespring, Cafepress, Printify, Society6.
5) Teaching using Online courses: The internet has given access for people to learn and explore new skills from various instructors from their homes. If you process intermediate skills, it will be possible for you to teach beginners. An expert is eligible to teach both intermediate students as well as beginners.
6) The Win Graphic design contests: As it is a controversial way to earn money, some designers may have the impression that entering the win graphic design contest may lessen their value for the design work, and as there is only one winner the other designer's work may be overlooked.
7) Customer Vector Artwork enables you to earn commission: The entire world is open to you if you are a proficient illustrator. The different work includes designing logos, illustrations, business cards, etc. There are plenty of freelance marketplaces that enable you to connect with professionals or businesses to obtain productive solutions for any issues that you may encounter.
8) Sharing your knowledge using Vector design-focused E-Book: If you are a successful blogger, you can also create an E-book and sell it by using your blog as it can reach a wider audience. If not, you can create a blog and start sharing your knowledge online. You could also open your own online Vector Artwork Store.
As innovations are taking place in the modern era, there are plenty of opportunities to earn money. Hope this article has helped you to know the various methods that can be used to earn money as an illustrator.