Sophia Dias' latest album Bullet-Proof has brought some bone-chilling details about her past. The now self-made millionaire was at the receiving end of a less fortunate fate and went through years of trauma. A victim of domestic violence, the songs of the album were written when she was going through physical, emotional, and psychological abuse in her house behind closed doors, away from the world of her choice. After deciding to exit a relationship that was bringing her nothing but misery, she went on to pursue her goals and inspire many other women to do the same.
The album retains the same title as her autobiography, which came out during the early months of 2022, and she wrote to share her journey to becoming a fashion designer, author, singer, and philanthropist. After the incredible success of the book, she announced that she would share the story in the form of songs with her singing fans. The album's seven tracks take cues from a variety of genres, including world music, jazz, Afro-fusion, and the avant-garde. 'I am happy to be introducing world music to the West; there aren't many singers out there focusing on traditional, intercultural music, so it is a good feeling to be among the few ones who are bringing diversity and inclusivity to American music culture,' shared Sophia about her non-conventional approach to music for her fans in the United States of America. The album's top track, 'Ghetto Arms,' has paid tribute to her favorite music genre, reggae, a Jamaican original. The album is available on Vevo and YouTube.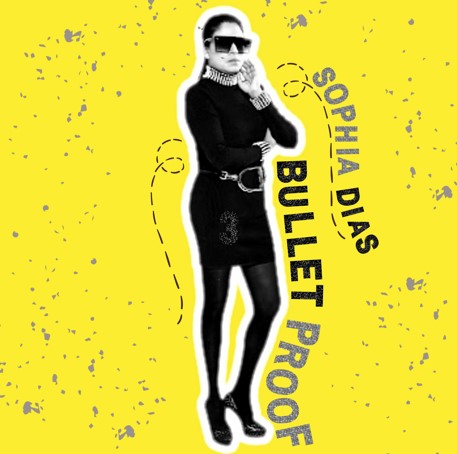 The album was recorded in Jamaica with Hunt and Jamaica's Tuff Gong Studios. The album's co-producer shared an amicable relationship with Sophia, 'it is always a pleasure to work with Hunt and Tuff Gong Studios; they are professional yet make you feel at home,' praised Sophia when asked about her experience of working in the Caribbean country. Over 22 countries now offer streaming access to Bullet-Proof, making it a huge hit in regions as diverse as Japan, India, Jamaica, and North America.
Residing in Chicago, Illinois, she officially entered the limelight as a fashion designer in 2014. Her high-end fashion brand Dias Worldwide has now expanded to Portugal, Italy, and the United States of America. She is a prominent supporter of women's and animal rights and has worked with several nonprofits. 'Anything I do, the purpose behind those who want to help others and the ones who need to be helped. When I was going through abuse, I had little to no hope in the form of support, which made me realize that someone had to come forward. Few get such an opportunity, and even fewer are able to come this far, and I am truly grateful,' added Sophia when asked about her dedication to helping others.
Released on December 9, 2022, the audience received the album well. The title song Bullet-Proof has been applauded for its compelling message and relatable lyrics. Some other famous songs on the album are 'Unplugged" and 'Stronger Than Before.' Listen to the album at Bullet-Proof By Sophia Dias-All Songs.
She has an exciting line of projects coming up, which she held herself back from sharing much about. She has promised to make the wait worth it, keeping her fans hooked, anticipating and speculating what she brings in next. Readers can find more details about her book at Blindée Préuve: Sophia Dias and connect with her over Instagram.