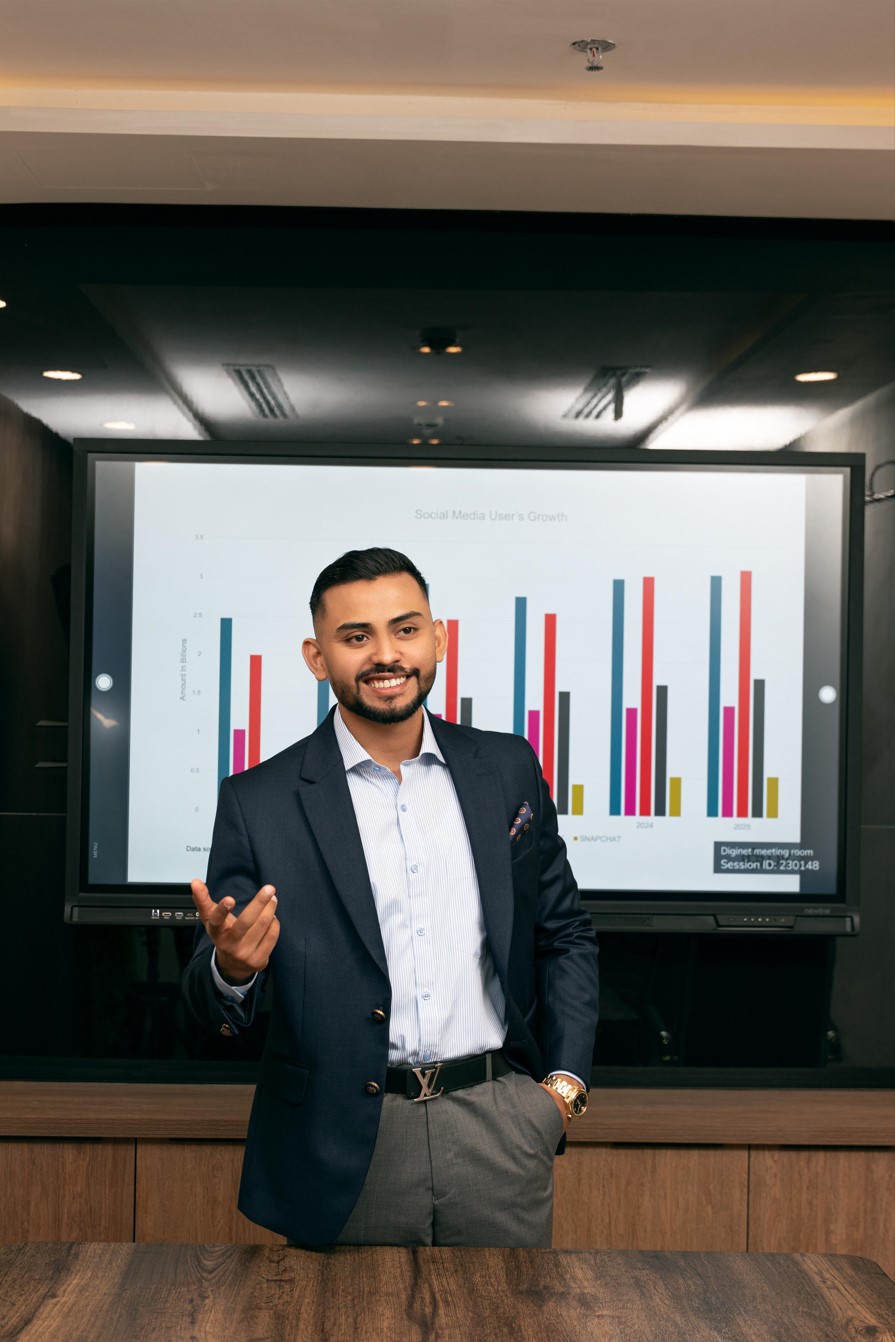 In today's digital age, where content reigns supreme, it has become more difficult for brands to stand out and for companies to reach their target audience. With an abundance of content, getting people's attention even for a few seconds has become a real sport. Considering these, content marketers now have more to do in terms of coming up with strategies, ideas, and growth hacking for consumers. On top of all this, the content marketing niche has become oversaturated with companies and agencies that are not up to the task, but Diginet Global UAE has proven that they are not your average content marketing company.
Musa's Journey to Diginet Global- The Beginning of Greatness
Musa Mughal has always been exceptional, and from a young age, his many entrepreneurial skills were highly visible. As early as age 14, he was rich with ambitions and dreams even though he came from a middle-class family that had limited resources. Though was young, he was able to recognize the need for extra financial help in his family and felt like he needed to do something about it, showing that his ability to take initiative has been in place for years. He began to set his priorities right and tried to connect with his age group on social media, Facebook especially, while he was at it.
As a teenager, he was very active on Facebook when it was at its peak, having a wide range of interests from sports to tech, social news, Hollywood celebrities, and comedy. What's fascinating about his journey is that he took this interest and turned it into a significant monetizing venture by sharing tons of relatable content and building a large audience on Facebook. He recognized the need for relatable and more resonating content which a lot of traditional blogs lacked at that time, so he took it upon himself to bridge this gap.
From monetizing his Facebook audience through content to establishing a career in content marketing. After years of building his expertise and working in the industry, in 2014, he officially established his first digital marketing company- Diginet Online Advertisement.
Gaining International Recognition
Musa gradually built Diginet into an international brand by expanding his base from Lahore, Pakistan to a branch in the UAE Dubai. The expansion to Dubai, UAE provided exposure, growth, and global recognition thanks to Musa's intelligence, experience, and excellent leadership abilities that helped him to maintain a deeply satisfied and highly empowered staff. The work culture in the UAE was different but much more welcoming and adaptable, so much so that it became the base from which most of their new success in the industry stems.
Standing Out in the Crowd
Musa Mughal's groundbreaking ideas and knack for innovation have kept Diginet Global on its feet. As a company, they have been able to stand out in the industry because their leader is able to recognize revolutionary ideas before they become widely adopted. The US and UK market has proven hard to penetrate for many digital marketers, but the opposite has been the case for Diginet Global because of their focus on innovative strategies, targeted audience, automation, and data-driven insights to deliver unique results. Focusing on industry trends and mind-blowing content generation, robust approach and provided seamless implementation has helped them gain peak results.
Collaborating with Influencers and Celebrities
Collaboration has always been a crucial part of Musa Mughal's strategy for rapid growth. Taking advantage of their reach and broad range audience, he teams up with influencers and celebrities to boost content distribution and connection. These partnerships played an essential role in helping Diginet stay ahead of the curve and become even more relevant in the field. Musa had always had a charm and affability, so forming relevant connections and partnerships was not a challenging task for him. He puts this skill to great use for striking deals that have taken Diginet to greater heights of recognition.
Indeed, he carries the brand on his shoulders as a visionary leader does and inspires others to do the same through adaptability, genuineness, and impact even in the face of constant change. Leveraging on his virality from the Facebook platform in 2018, Diginet Global have collaborated with over 300 influencers from across Europe, the UK, and the United States including a renowned World champion boxer. With up to 7 billion monthly video views, it is safe to say, Diginet has surpassed many in their niche in terms of growth and reach.
Unique Strategy for Growth
Beyond his enthusiastic personality and fondness for seeing things work extraordinarily, Musa has established a working strategy that transcends trends and basic growth hacking rules for Diginet Global LLC. They follow a reliable method of constantly analyzing market trends and customer insights to develop well-tailored plans that align with their goals. His belief in authenticity and commitment to the success of all his partners and clients helps the company to stay relevant against time
Another one of their secret weapons is the use of organic marketing strategies. While many brands may ignore organic marketing, Diginet Global leverages this for sustainable growth and captivates a larger audience in the process. According to Musa, they are not afraid to try out different techniques and develop campaigns based on insights from data collection- this is how they have scaled as a company and come out on top.
Balancing Regular Life and Work
Being a CEO can be draining for many, but Musa Mughal has cracked the code for striking a balance between both worlds. While he prioritizes work, he believes that this should not come at the expense of health and personal relationships. Fostering important personal connections has always been key for him, because of the belief that the success of some business goals is tied to this. So, health and personal relationships should not be traded for anything, hence the need for balance on all fronts. Musa still pursues his interests outside of work and makes healthy decisions because he believes prioritizing this is also an effective way to be productive at work and reduce stress.
These choices also transcend his personal life, and flow into Diginet Global as he is very dedicated to creating a thriving environment for employees. He has established flexible work arrangements and commendable policies encouraging employees' overall well-being.
Significant Plans for the Future
Since its inception and under Musa's exceptional leadership, Diginet Global always strives to push boundaries, and in doing so they have established the company as one to watch out for. In the near future, Musa plans to expand the company across the globe and build it to the point where it becomes one of the world's renowned content production companies. The goal is to dominate the industry and set a high standard that others can follow while they are at it. Diginet Global is already a multi-million dollar company but with Musa Mughal's continuous determination and ever-increasing expertise, they are aiming to become a multi-billion dollar company in the next few years. They are already on the path to becoming the industry's front runner with millions of views to their name and a worldwide recognition amongst relevant social forums.