By Jordan Bosch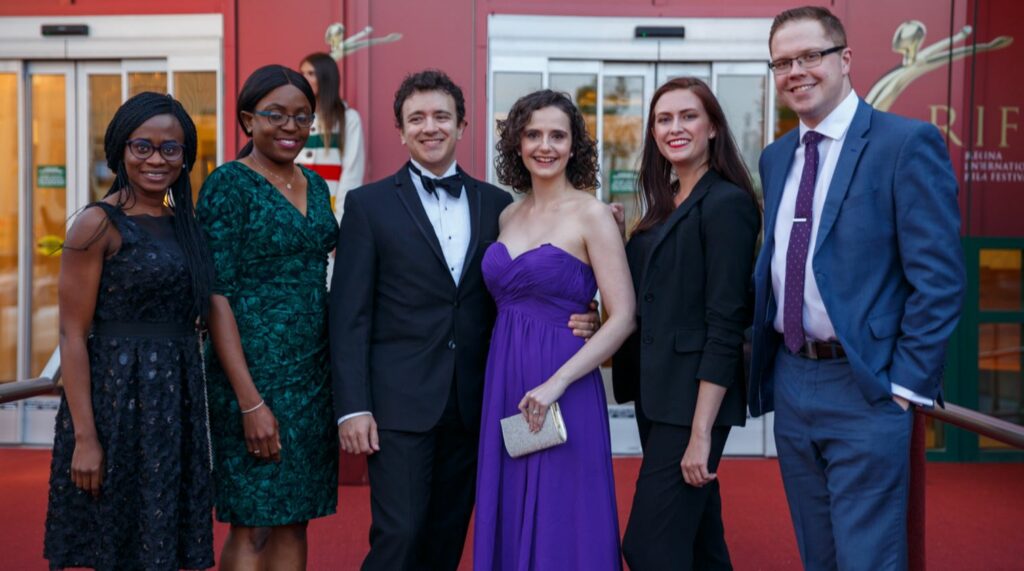 Handily compiled into a playlist by RIFFA are a series of short films from around Saskatchewan that represent a broad diversity of types, formats, and personal fields of interest. The filmmaking bug has persisted here in spite of every obstacle and it has yielded some interesting creativity. I sat down and watched these shorts, ten to be exact, ranging from three to twenty minutes in length and made in corners of the province from Carlyle to Pilot Butte. Some of the work greatly impressed me and I just want to discuss those notable ones that participants of this years' Regina Film Festival, especially based in this province, ought to check out.
For one, the subject of police brutality against Indigenous peoples in Canada is only just starting to be represented on film, and Starlight from director Cody R. Diehl depicts Saskatchewan police racism with targeted potency. From their perspective, it follows two officers on a winter patrol arresting a First Nations wanderer for no particular reason but that he is in the general vicinity of a complaint and has a criminal record. Tension builds as the focus shifts, the officers using openly racist language and forebodingly lying to their superior about pulling anyone over, escalating to a harsh culmination. It's a stark piece, made grimmer by its' black and white photography, that may well be only the beginning of a reckoning in Canadian cinema with long overlooked Indigenous issues.
From an immediate palpable topic to something decidedly more abstract, you have Running For Your Life, a five minute short by Logan Mainil. A man dreams about running on empty open roads only to be stopped by the figure of Bergman's Death telling him he's "been admitted". Bookending the dream are parallel interpretations of reality, one where the man lives a domestic life with a considerate girlfriend, the other where he is a loose canon patient in an asylum -of course the film never confirms the legitimacy of either one. The atmosphere is perhaps what's most admirable about this one, its' resting sense of dread. And that intersection of dreams and reality is rarely not a worthy idea to explore cinematically.
Probably my favourite though was Sometimes Nothing is Heaviest, an intricate stop-motion film running close to twenty minutes. Written, directed, designed, animated, and edited by one Emily Ellis, it is impressively meticulous in detail, nicely animated in both its' stop-motion and hand-drawn techniques, and heavy in creative visual metaphor on the psychological anxieties of growing up and leaving a piece of yourself behind. There's a lot of curious symbolism at play and it's all compellingly provocative, yet entirely honest. Though it deals in some melancholy ideas it is at the heart a tender piece. The film is quite beautiful too, haunting and sweet in equal measure, not unlike the work of Czech animation master Jiří Trnka. And the simple piano score drawn from a Prokofiev composition is exceptionally pretty. It's a little gem of an animated work and its' artists deserve a great future in the medium.
A few other shorts are notable in some capacity or another. It's worth mentioning Levi Mierau's Far From Me which depicts the heartwarming byproduct of an act of random kindness, and Ranjit Singh's Occam's Razor, an exquisitely-shot snippet of a 1950s mystery thriller. The last short I watched was a comedy, perhaps akin to one you might find made by a youtube sketch group, but rarer to see entered into a film festival. The Millionaire's Burger by Rob White is a delightful bit of absurdity centered on a particularly exclusive menu item at an otherwise ordinary mid-level restaurant. It's got some clever comic writing and delivery to bolster the bizarre premise, and makes for a good final course to the Saskatchewan short film collection. Be sure to take it in.

Visit: https://riffa.ca/riffa-2021-saskatchewan-movies/
SpotlightMagazine.ca was not involved in the creation of this content. Information contained on this page is provided by an independent third-party content provider. SpotlightMagazine.ca makes no warranties or representations in connection therewith.