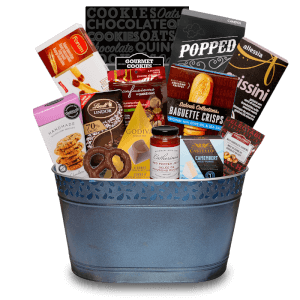 A gift is has always been symbolic of pure and generous love, a way to show someone how much they are appreciated. For celebrations such as Christmas, birthdays and more, gifts are a wonderful tribute to anyone and everyone. As a result, seeing the happiness that spreads is just as special for the giver as the receiver. When people receive a gift that is considerate and thoughtful, they will never forget the kindness of it. For a sweet and memorable gift, check out Nutcracker Sweet.
Nutcracker Sweet presents you with timeless gifts, such as chocolates, gift baskets, sweets, candies and more. These gifts are endearing to anyone, no matter how young or old they are. Canadian gift basket company Nutcrackers Sweets offers you the opportunity to gift something thoughtful and charming at extremely affordable prices. Below is list of presents you can give your loved ones, guaranteed to bring a smile to their faces.
1. Gold Standard
This is one of the best sharable gift baskets that you can present to those you love. It is primarily for lovers of treats and people with a sweet tooth. This gift basket includes boxes of Rogers and Lindt chocolates, Wildly Delicious Compote and Jam, Baguette Crisps and Brie Cheese, Cheddar Cheese Biscuits, Cookies and Biscotti and so much more. This gift basket, including everything, is only $200.
2. Kosher Creation Medium
This gift basket is one of the most amazing and delicious presents anyone could receive. This basket includes Godiva Chocolates and Ghirardelli, Toblerone, Walkers Shortbread, and many more irresistible kosher treats. Kosher is available in a variety of sizes, with a treat for everyone. The price of the smallest basket is $50, the price of the medium basket is $75 and the price of a large basket is $100.
3. The Royalton

This is one of the most unique and tasty gift baskets from Nutcracker Sweets. It includes treats from the world's most luxurious chocolatiers, like Godiva, Lindt, Ferrero and Rogers chocolates. Gourmet items include Brie Brulée, Tuscan Crackers, Cranberry Port & Pecan Compote, among other scrumptious snacks. You can buy this gift basket at just $250, including a whole variety of lush and expensive chocolates as well as other small treats.
4. Goodies Galore:
This gift basket is an amazing and special way to show your love. With a whole array of decadent goodies such as Lindt chocolates; Raspberry Matcha Tea-Infused Dark Chocolate Toffee Almonds, Ritter Sport chocolate, Maple & Sea Salt Caramel Popcorn and more, the receiver of this gift will undoubtedly be overjoyed. The price of this basket is just $50.
5. The Arlington:
This basket is uniquely designed by Nutcracker Sweets, a true testament to lovers of sweets. The gift is packaged with lovely gourmet items, including Roasted Garlic Infused Extra Virgin Olive Oil, Rosenborg Brie Cheese, Red Pepper Jelly, Godiva Chocolates and Black Cherry & Almond Biscotti. For a gift basket that is original and creatively inspired, the price is only $165.
6. Toulouse:
This gift basket is filled with both sweet and savory treats, like Godiva Dark Chocolate, Lindt Chocolate, Rosenborg Camembert Cheese, Olive Oil & Sea Salt Baguette Crisps, Red Pepper Jelly, and plenty more. For just $100, satisfy all aspects of your appetite.
7. Tinsel Tower:
The Tinsel Tower is one of the most delightful gift baskets of Nutcracker Sweets. You can give the tinsel tower to your friends and family on Christmas and revel in their amazement at the design of it. The tower includes three boxes in the shape of the building, which is filled with raspberry pretzels, assorted chocolates, maple popcorn and more. The price of the Tinsel Tower is $40, and it is well worth the amusement and awe that observers will experience in laying eyes on it.
SpotlightMagazine.ca was not involved in the creation of this content. Information contained on this page is provided by an independent third-party content provider. SpotlightMagazine.ca makes no warranties or representations in connection therewith.