Aimee Ruoff is a Canadian ultra-contemporary emerging artist with an incredibly distinctive visual research, rapidly growing international presence and rising collector interest. Her latest career advancement, among others – is inclusion in the global roster of creators on Artsted, the online marketplace which encourages the artists to take control of their career journey and provides collectors with real time analytics on the artists' latest market demand, making art investment more accessible than ever.
How do you find your education shaped you as an artist today?
‍My mother is an artist as well and I would say my art education started way before school. Since childhood she brought me to a lot of galleries and museums so I was always immersed in this world. And then I did go to an arts high school before attending university. I just graduated in 2020 from my Bachelor's in Arts. It is still quite fresh but I learned so much throughout my formative years.
The community of arts school was also a big part of my education and helped me immensely.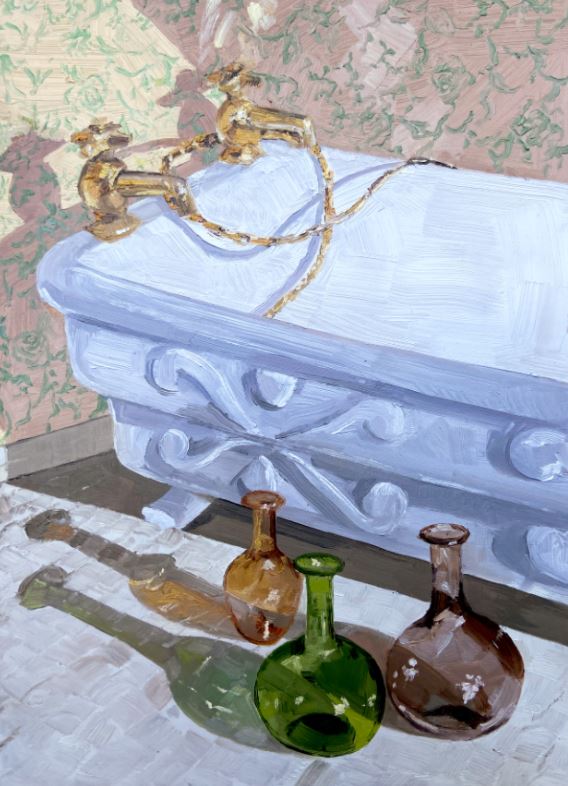 How did COVID-19 impact your way of making art?
‍I think it was a very challenging and disappointing time. Before COVID-19 happened, my plans were different so when the pandemic hit I did not expect to be stuck at home working as an artist full time. I was just stuck at home and this forced me to paint. It ended up being such a blessing because it improved my technical skills in a way that would not happened otherwise.
Who are your all-time favorite artists?
‍I am so very passionate about art history. Two artists that I would always look back to are Manet and J. M. W. Turner, I love their use of light. Speaking of contemporary art I would say that Mamma Andersson and Peter Doig are among my favorites. I like that they have a kind of spiritual element in their art.
‍What is your relationship with social media and how do you use them?
‍I think I have a love and hate relationship with it but it is also great for networking and finding other artists that I like. I sometimes use Reels and Tiktok but I am not as good at keeping up with that. I am thankful for it in the end even though I know it is never going to replace seeing a piece of art in real life.
‍What is indispensable when you are in your studio?
‍Having good lighting is essential for me. Working outside, for example, is a huge part in my creative process. Also, tools wise, having a range of brush sizes and a very sharp pencil is also crucial for the way that I paint.
SpotlightMagazine.ca was not involved in the creation of this content. Information contained on this page is provided by an independent third-party content provider. SpotlightMagazine.ca makes no warranties or representations in connection therewith.