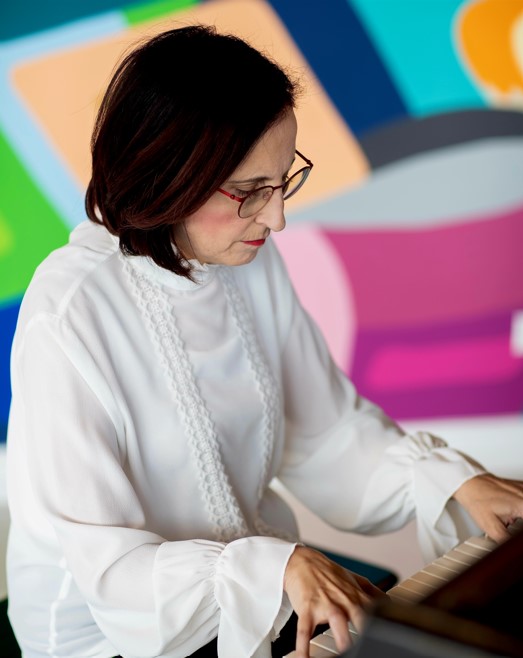 What made you want to become a musician?
I didn't think of becoming a musician. But music, it seems, gave me no choice, and at the age of 24, I found myself having to listen to a voice, albeit a crazy one, asking me to learn and, more importantly, to listen and embark on a journey with a mysterious destination. And here I am having to face doubts and challenges that still last today but that have changed me and will continue to change me. Music is that creature that fascinates you, drags you along, makes you vulnerable, exhausts you, enriches you, makes your senses always on alert, surprises you, but which you can no longer do without—a kind of hate and love, but certainly love is stronger!
What accomplishments do you see yourself achieving in the next five to 10 years?
I'm not sure. Tempo, in the sense established by man, is not important for music. Music survives any idea; it projects itself in its time; it is unpredictable; it leads you on the road that is yours, but you don't decide the steps; the only sure thing is that you don't have to back down, and I'm ready for the challenge. Here's what my idea of the future of music could be.
Do you have any hobbies or interests outside of music?
I like reading, especially poetry, which is music in words. I love long walks. Walking is like a movement in music: presto, allegro, adagio, andante. I like photography; my favorite subjects are clouds; it's music written on the pentragram of the sky. I like black and white movies; they're like black notes between spaces and lines, and silent movies, you can imagine the music that accompanies each scene.
What strengths do you think makes a musician a great musician?
Personally, I don't think about it because only time can define if a musician, or an artist in general, is great. Perhaps, however, there are, beyond talent, artistic elements that can define a great musician: knowing how to listen to the greats of the past, commitment, discipline, being honest, being visionaries and provocateurs, critically confronting established power, and above all, the most difficult thing, being humble and not taking yourself too seriously because music chooses you and not the other way around.
Do you have any weaknesses that you're actively working to improve on?
The fear of not having the time to tell other stories through music, of not having said enough, of not having given a voice to those who don't have the opportunity to do so, of not listening enough to those around me, of being distracted and sometimes extraneous to what is happening.
What is it about music that makes you feel passionate?
The music is unpredictable; it's like being on a roller coaster. We must be courageous, prudent, reckless, and free. Here's what I love about music: its freedom, its projecting itself, and its reaching everyone. Being universal, being uncontrollable, and being a part of it all is fascinating, passionate, and also hard because you never know what's going to happen next.
What do you like most and least about composing music?
Music exalts you, but with the same force, it abysses you. The thrill of composing opens you up to a different vision of the world and its creatures; it lets you participate in its beautiful mystery, but even if you believe you are the creator of those creatures made of musical notes, deep down you are not. They are yours, but they don't belong to you; they are free, and they will turn away from you at the first opportunity, and for them you will be just a spectator among the spectators. Here is a relationship made of shadows and lights, a bit of salvation and a bit of damnation, and you are part of this with joy and pain at the same time.
Whats more important to you, fame or credibility?
Fame flatters you, and since artists are by nature self-centered and narcissistic, they obviously love to be famous. So I wouldn't mind being one, but I opt more for credibility that can last over time while fame doesn't, and then I am convinced that fame belongs to the music itself while credibility belongs to one of the characteristics that humanity should have. You don't love Bach because he is famous; you love him because he and his music are still credible today!
Can you describe yourself in a six word sentence?
Work in progress filled with hope.
Website: www.mariaragomusic.com
Facebook:
https://www.facebook.com/mariaragomusic3
YouTube: @mariarago2335
YouTube:
Lady M Day of Hundred Candles (video)
https://youtu.be/hRVVFinzFeo
Listen to Lady M Day of Hundred Candles by Maria Rago on #SoundCloud
https://on.soundcloud.com/tDxHU