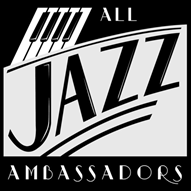 Have you found the right band for your wedding yet?
The choices when it comes to wedding bands, dance bands and Top40 bands seem endless.
The All Jazz Ambassadors from Graz however, offer you something different!
Sophisticated Jazz music for a special atmosphere!
At the wedding ceremony, the agape or at the dinner: With the right music your event will be something unique!
From elegant background jazz at the reception, all the way to danceable Swing and Latin Grooves after the dinner.
We deliver elegant live music which sets just the right tone for the moment and makes sure that the day will forever be remembered as something special.
The All Jazz Ambassadors are also able to adjust their playing volume without losing any excitement and drive in their music.
Our job is to help turn your wedding day into an unforgettable experience. In a personal talk we will gladly answer any questions or request you might have.
We support you with organizing and putting together the perfect program for the schedule of your wedding ceremony!

About us

We are a 4 man band born in Austria, Germany and the United States.
We came together in 2012 in Graz where we and also the Jazz has it's home.
With our 'JazzMobile' we are flexible and capable of getting to any event in all of Austria (and further) with our instruments and equipment in no time.

For further information, pictures and audio samples please visit our website:
www.alljazzambassadors.at

contact:
e-mail: kontakt@alljazzambassadors.at
phone: +43 (0) 67761395147