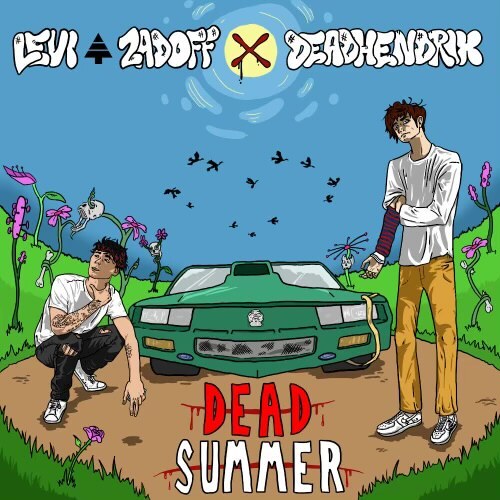 We have come a long way from the time the outbreak of COVID confined us to our homes, but the aftereffects are still with us. We still remember the people we lost, and how we think of ourselves and the world has shifted dramatically. Listening to Dead Summer by Levi Zadoff and Dead Hendrix is almost like reliving the different stages of the pandemic, only now it's being delivered through an unconventional mix of hip-hop, pop-punk, and the anticipation of electronic music.
The second track, Alone, tells the tale of the first phase, where everyone was confused about what was happening. We were suddenly thrown from a life of social interaction to a life of sitting alone with our thoughts and being disconnected from reality, "I don't even know where I'm at. Everything is going real bad, and I sit alone with this bag."
Cue the next phase, where it felt like there was no hope. Levi Zadoff and Dead Hendrix portray this phase in the upbeat, funk-rock influenced Don't Think It Could Get Much Better, "…I can't take no more… Don't think it could get much better, right now it could get much worse."
Levi and Dead Hendrix lastly speak of the time when we all questioned the world's events in the song Can't be God. The song is mellow, with a haunting melody that leaves you a bit emotional when they say, "I don't wanna die, but if I die right now, I'm fine…but I do what I can tho'…, and it can't be God now, but I know that my head's in the stars now."
The other songs that complete the EP are Love Game, which talks about the struggle of dealing with heartbreak, and Teenage Dirtbag, which serves as a bonus track in the EP. What makes Dead Summer more unique is the fact that Levi Zadoff and Dead Hendrix created the entire EP virtually. Levi Zadoff is an artist from Los Angeles who has accumulated more than ten million streams on Soundcloud. Dead Hendrix is an upcoming musician from Ottawa who uses his music to talk about social issues, including drug abuse, heartbreak, and different traumas.
The two artists met on Snapchat, shared their music, and decided they liked each other's sound enough to collaborate on something. They also worked with producers Imani Beats, SplashGVNG, IOF, and Yago Beats.
Levi said that when asked about the EP, "It was fun to create and the most authentic piece I have worked on." Dead Hendrix, on the other hand, was glad to have lived out his dream, "This is the closest I have come to my musical aspirations. It is the perfect blend of edge and relevance I want to make."
Dead Summer showcases the talent and skill level of Levi Zadoff and Dead Hendrix. The two seamlessly transition from one genre to another without making the EP feel disjointed. You can also hear bits of their influences, including Machine Gun Kelly, Avril Lavigne, Blink 182, and Lil Peep. The two artists said the EP is just the beginning of their collaboration so that fans can look forward to more compelling, relatable music.
Listen on Spotify:
Levi Zadoff Instagram:
https://www.instagram.com/levizadoff
Levi Zadoff Website:
https://www.levizadoffmusic.com/
Dead Hendrix Instagram:
http://www.instagram.com/talk2thedead
Dead Hendrix Twitter: