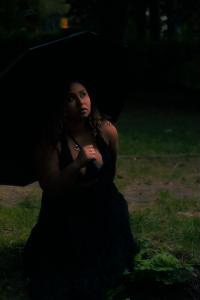 Great to meet you! Tell us who you are!:
"Great to meet you as well! I am an artist based out or Toronto, Canada. I go by Beauty in the Riot."
What projects are you working on right now?
"I have a few projects on the go but am currently working on a new song called "Hurry" that will be coming out January 7 2022. I am really hype about that release. I am also going to be directing my first music video at the top of next year."
How long have you been making music?
"Oh, that is a tough one. I use to write song as a kid and perform in talent shows I would be there rapping about crayons, and life problems of a 3rd grader. Haha. I have been releasing music since 2015 but began taking it more seriously these past 2 years."
Obviously most artists have an interesting story, what is yours?
"I would say ever person has a story regardless of if they realize it. I grew up in the arts. My dad was a successful musician here in Canada and I got to witness his entire career which was really special. My mom also works in film and currently works directly for Woody Harrelson. However my story is one more of finding the beauty in the curve balls life offers. I lost my dad at 18 years old to cancer, and in 2018-2019 I lost my boyfriend at the time and my best friend in the whole world. So grief and I became friends in a way and the people I lost were some of my biggest supporters. So I do this for them, I chase my dreams because they can't chase theirs."
Your story sounds incredible, how are you planning on sharing it with the world?
"Great interviews like this allow me to tell my story and in many ways it really is shared through the music. My last song "If I Follow" was written about grief and depression. I want my story to help others and I want to focus on some of the beautiful moments that happen in sometimes the hardest times of your life. Hence the name Beauty in the Riot."
What are some of your main influences?
"I like everything from Tool to Corinne Bailey Rae, Amy Winehouse, Arctic Monkeys, Mac Miller, David Gray to Kane Brown. I am a huge fan of rapper NF and with more recent up and coming artists I love Jesse Murph. It's really hard for me to narrow it down."
If you had to feature with one celeb artist, who would it be?
"Honestly Jessie Reyez would be a dream. Keep it in the Canadian family."
If our audience could take away one piece of inspirational advice from this interview, what would it be?
"Chase your dreams. It sounds corny but it's the truth. I hate saying life is short but life is unpredictable and in your soul you have to do what makes you feel alive. Don't take on the poisonous energy of anyone who doesn't support you."
Where can we find your music and social medias at?
"My music is on all streaming platforms. I am getting a lot of love on Spotify right now so shout out to them. It's @beautyintheriot on all social media."