The Milwaukee entrepreneur has turned his Amazon best-selling novel into a motion film that will keep viewers on the edge.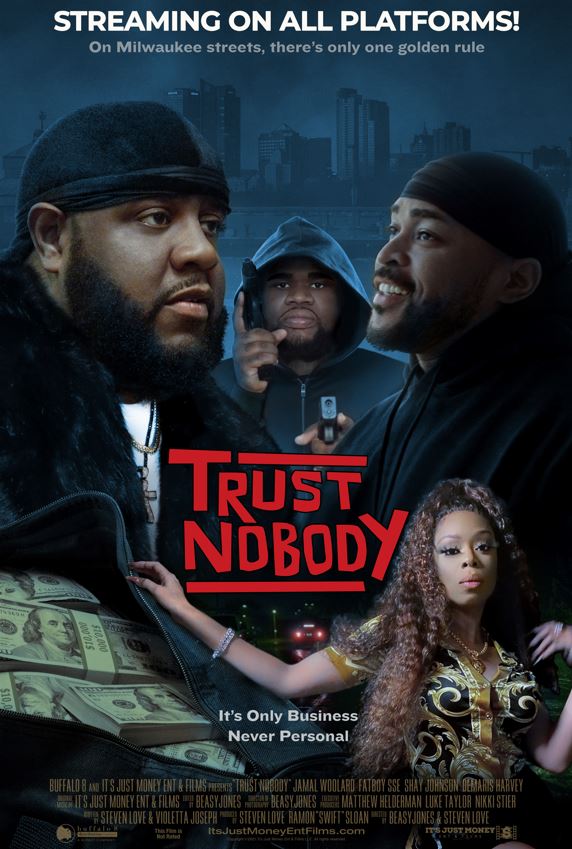 Produced by It's Just Money Films Ent & Films, Trust Nobody is a 90- minute drama that takes place on the hard ghetto streets of Milwaukee and based on a young hustler named Bricks, who just got released from a 4 year prison term. Bricks is trying to get back on top where he left off. But when he hits the streets, he realises that nothing is the same as it was. Realizing that everything has changed, he puts together an army of reckless hustlers and hardcore hoods, and before long the money begins to flow. While Bricks is basking in living the good life, events unfold that place him in a precarious position to strap up and seek revenge on those that crossed him. What he doesn't know is that the men that he is searching for may very well be in his own organization.
Trust Nobody is Love's first movie, but the depth of the story and quality of the production gives no indication to his experience. In fact, the movie script which he wrote more than 10 years ago has been adapted into novels of the same title that are now Amazon best sellers. Readers have hailed the books as awesome page turners filled with drama and suspense.
Sharing his motivation for producing a film, Love said:"After selling over 10,000 copies of first book, people kept telling me that it needs to be made into a movie. This has been several years in the making and I am just so happy that the movie is finally a reality." He added that this movie premier is a Mil-town historical moment and is encouraging everyone to support the event.
Trust Nobody features an impressive cast starring rapper and comedian, Jamal Woolard best known for portraying musician in the film The Notorious B.I.G., All Eyez on Me, hometown talent and former VH1 reality star, Shay Johnson, who stepped into the spotlight on Love & Hip-Hop Atlanta & Miami, multi-faceted actor-DeMaris Harvey, Reverend Islaam best known for his role in The Remedy and Steps and Circumstance, I Got the Hook Up 2 star – Fatboy SSE, and Empire, Detroit 1-8-7 and The Wannabees Starring Savvy actress, Cierra Angelia. All members of the cast will be present at the event which will be hosted at AMC Mayfair Mall 18 Theater on Friday August 13. The red carpet event will kick off at 7:00 pm and the movie will begin at 8:00 pm sharp.
Described as resembling the style used in Menace to Society film, Trust Nobody is laced with urban style music that builds the film through short shots, creating a sense of discovery. The movie will provide exciting entertainment value for young adults who love hip-hop, fans of crime and mystery movies, as well as those who just want to see a great movie. Tickets for the movie premier are available for purchase exclusively at Bouchard's on 76th capitol. For further information or to watch the movie trailer, visit: https://flipboard.com/article/trust-nobody-movie-trailer/f-1f28dde7e5%2Fyoutube.com.
Contact Info:
Steven Love
E-mail: itsjustmoneyent@gmail.com
https://youtu.be/mE5cg0vsWcE
https://youtu.be/ATrOVxDrac8