CROWD-ROUSING SONG FEATURING GUEST VOCALIST HILLA SHARES MESSAGE OF HOPE & HEALING ON CHRISTMAS DAY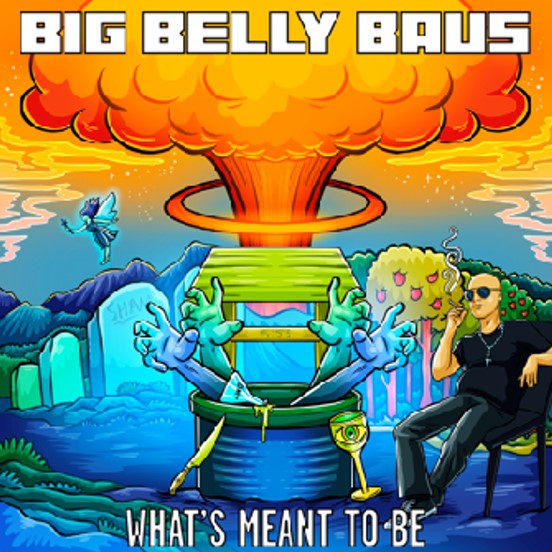 'WHAT'S MEANT TO BE' IS RELEASED ACROSS ALL DIGITAL PLATFORMS ON DECEMBER 25, 2022
LISTEN TO AN EXCLUSIVE PREVIEW HERE
On December 25, 2022, Canada-based producer and DJ Big Belly Baus releases his latest floor-filling EDM track 'What's Meant To Be' in time for the global New Year celebrations, marking the close of 2022.
Written and produced by Big Belly Baus, the high-tempo track utilizes contrasting synths alongside smooth, contemporary vocals from German singer-songwriter HILLA. The driving, four-on-the-floor beat propels the track forward, reaching out with abundant energy to encourage celebration and the anticipation of healing.
The artist explains, "The track was written before I embarked on my own journey of recovery, before that moment of crisis. I was in rehab for six weeks in October 2021, having abused drugs and alcohol for most of my life. Since my stay in rehab, I have remained clean and sober, and I'm now ready to share this music with the world."
Born Frank Danihel in Calgary, Canada, the DJ and producer fully embraces the notion that what makes or breaks a party is the vibe. With his years of experience behind the decks and on stage, Big Belly Baus sets dance floors alight with his ability to create timeless and unforgettable moments for the crowd.
Big Belly Baus has carved out a signature sound that breaks the mold of EDM, adopting a freeform approach to both producing and DJing. He began producing dance music after realizing that many of his DJ inspirations were also producing their own tracks. Having undertaken music theory and improvisational piano studies since 2009, Big Belly Baus has more recently taken the step to release his own original music.
'What's Meant To Be' is the artist's second independent release after 'More Than Just A Vision', out earlier this year. The timing of the release of the new track is intended to share a message of hope with the world.
Big Belly Baus explains, "I've chosen to release this track on Christmas Day because it feels like my musical gift to listeners' ears. My perspicacious mind defines my reality, and there is so much to be thankful for around the holiday season — I hope people feel inspired."
'What's Meant To Be' is released digitally across all platforms on December 25, 2022
Follow Big Belly Baus on Instagram | Spotify | Soundcloud